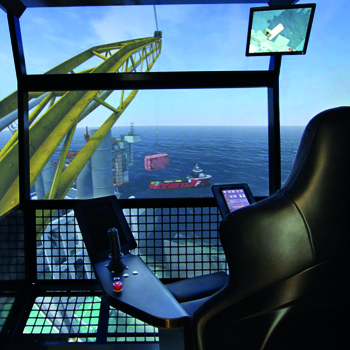 Case Study 1

Who: Joel Mills
Offshore Simulator Centre AS Norway, Design Director
Problem:  "We had recently designed a new type of high-tech crane chair featuring armrest control sets. This new design was to be used in our new crane simulators. We therefore needed to find a manufacturer who could produce this new product to a high standard with a quality finish, someone who would take control over the total process from being given the technical drawing at the beginning to sending out the finished product direct to our customers at the end."
Solution: "Quill offered a professional one stop shop. Having a trustworthy and efficient manufacturer who will also take the initiative to contact us if they can see details we could change in the product to make the end result more cost effective or even better as a final product is a very refreshing change for us."
"Having a manufacturer as competent as Quill in the UK when we are based in Norway has meant we are able to send them additional components which need to be connected to the arm rests and they will assemble them. Quill operate around the globe and therefore ship our projects for us worldwide, which means our projects never have to be sent to Norway before being sent to our customers. This has saved us time and money"
"We have been extremely happy with the working partnership with Quill and would be very happy to recommend them to anyone."
---
Case Study 2

Who: Andrew Fulton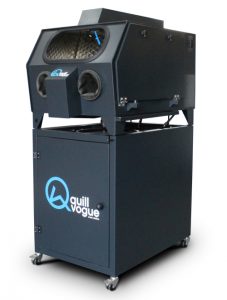 Managing Director, OPS Limited
Problem: At OPS we supply Objet 3D printers which produce physical models from Computer Aided Design files. These models are created by printing resin, layer by layer, which builds up to form the three dimensional part. To enable the printer to produce vertical geometry the printer lays down a 'jelly like' support resin that must be removed as part of a post process.
We challenged Quill to design a wash station that could quickly and efficiently remove the support material without damaging the physical model. The wash station needed to have a variable pressure range, good visibility, easy part access and be quiet enough to work in an office environment; furthermore, we wanted an optional self-contained feature that gave our customers the ability to use the wash station where there was no plumbed access to a water supply.
Solution: Quill design engineers worked very closely with our team to ascertain the exact specification requirements. It quickly became obvious that we were working with an extremely professional operation that had an in depth knowledge in this field. Their first prototype was built within a very short timeframe and performed extremely well; our engineers suggested some slight improvements and these were quickly added. In addition Quill, with the benefit of Beta testing made additional improvements so that the system met their own standards of operation.
The Vogue wash station was an instant success with our customers. Quill have now designed us a larger system and we have a range to meet all requirements. We now sell a Quill Vogue with every printer purchased! Quill are first rate, they are easy to work with, have a can do attitude and their service is second to none.